World Markets Roiled by Brexit as Stocks, Pound Drop; Gold Soars
Global markets buckled as Britain's vote to leave the European Union drove the pound to the lowest in more than 30 years while sparking demand for haven assets from U.S. Treasuries to gold.
The Dow Jones Industrial Average fell 587 points, or 3.4 percent, erasing gains for 2016 as bank shares plunged. European stocks bore the brunt of the carnage, with the Stoxx 600 Index sliding 7 percent in its worst day since October 2008. The yen briefly strengthened past 100 per dollar for the first time since 2013. Treasury yields had their biggest drop in more than four years and gold rallied above $1,300 an ounce. Volatility surged, with the CBOE's measure of anxiety jumping 30 percent.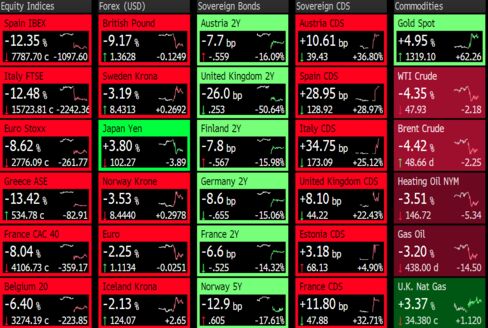 "This i
s going to take a large number of trading days, if not weeks, to iron through," said Stephen Wood, who helps manage $237 billion as chief market strategist for North America at Russell Investments in New York. "'There were a lot of surprise positions that had be unwound very, very quickly -- that's been a significant phenomenon. Some of that will probably be re-traced. Initial reactions tend to be more extreme than long-term averages."
Why Britain Voted to Leave the EU
Is The "Official 9/11 Story" Coming Apart At The Seams?
It seems that Washington is clearly setting the Saudis up to take the fall should the 9/11 cover-up start to unravel. The Saudis can already see the guns being pointed at its direction. This has the potential to bring an end to the strategic alliance between Washington and Saudi Arabia.
Saudis Exert Pressure to Escape UN Blacklist
If they were not removed from the annex to the UN's annual report on children and armed conflict, the Saudis had threatened to cut off millions of dollars in humanitarian funding.


Mass Exodus of Oil Companies From the Arctic
With the departure of a Spanish oil company from the Chukchi Sea, only Shell still holds a drilling lease in U.S. Arctic waters. Here's why an Arctic oil boom never happened and why it probably never will.
The Cost of Proposed Offshore Drilling $180 Billion
The net increase in global carbon emissions from those leases over their lifespans would be 850 million metric tons of C02 = the annual emissions of 3.6 million vehicles over fifty years.